Overview en fr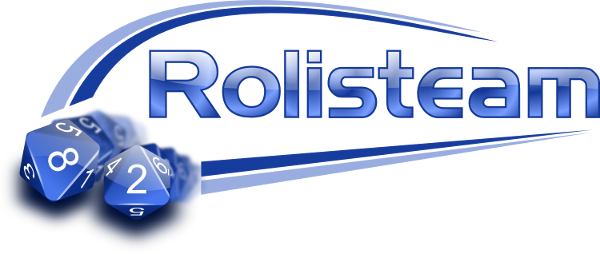 Presentation
Rolisteam is a free software (under GNU/GPL2.0). It's dedicated to role play gamers who wish to play despite the distance. It provides all required features to play a game. Thank to Rolisteam, you will be able to share maps, draw on the fly, add comments, mask some parts of the map, place characters , roll the dices, talk to each others. Anyways, players can be all over the world or just around the corner, rolisteam can help you to play.
Rolisteam provides enough features to play in text mode.
Many people use audio conference software additionnaly with Rolisteam (such as Mumble, Teamspeak, Discord, Matrix or Skype).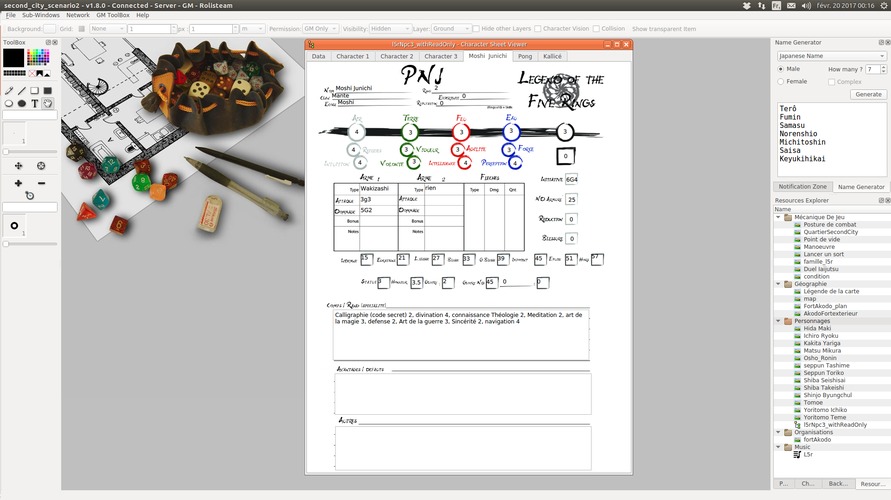 Features
Rolisteam has those following features:
Game hosting/Join game more…
Image sharing more…
Instant messaging more…
Public and privates chat allowing users to talk to each others
Draw and share map more…
Draw and share Vectorial map more…
Import images in map as background or item.
Multiple drawing tools to draw or annotate maps
Fog of war on map, the GM can hide parts from maps
Character tokens
Charactersheet management more…
Dice roller more…
Dice Alias more…
Permission management : Game Master (GM) or Playable Character (PC)
Distinction between player and character
Character avatar more…
Dynamic character states more…
Resource manager more…
Stored Preferences more…
User Interface Customization (Look and feel) more…
Save/Load data as individual file (image, map, character sheet)
Save/Load data into one file called "scenario" (.sce)
Update the workspace after new player connection.
Minutes editor to keep tracks about your game more…
Shared Text Editor to share the effort taking notes more…
3 tracks Background music player more…
Dice Bookmark more…
Unit convertor more…
Name generator more…
Tutorials
Abbreviations
Following abbreviations are used in the whole documentation. Well known by Role playing gamers (Rolists), we wrote this page as a reminder:
GM: game master.
PC: playable character. Is is interpreted by a player.
NPC: non playable character. It is interpreted by the GM.
Licensing
Rolisteam is free software; you can redistribute it and/or modify it under the terms of the GNU General Public License as published by the Free Software Foundation; either version 2, or (at your option) any later version.
Authors
Rolisteam is developed by Renaud Guezennec. His purpose is to help people to play to role playing games. Rolisteam is based on rolistik 1.1 developed by Romain Campioni.
Contributors list:
Renaud Guezennec
Joseph Boudou.
Romain Campioni who made rolistik, the code base of rolisteam
Configuration
Rolisteam works under