Notification Panel en fr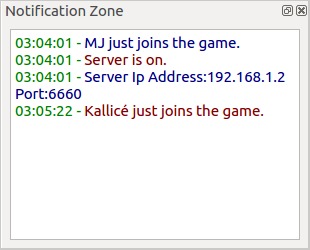 The events window is the log of all significant actions that take place during the game.
Hosting
When Rolisteam is in hosting mode, information to join the game appears in the notification area. Those information are required for joining the game.
Events
connection of a new player, when a plan is opened, the color change of a PC, etc.
Each event is time stamped and alternatily written in red or dark blue for better readability.
Error
Players who have not the same version of Rolisteam appears in the notification zone.
Network tranfers
Any long network tranfers cause a progress bar to appears. Let you know how long it will be.